Molded "vs" Flat Dash Kits
Molded Dash Kits - are 3D & 2D formed to precisely fit the shape of your contoured dash pieces. The 3D molded pieces curve around the edges of the factory dash, while the 2D pieces work the same way as a flat kit. Usually molded dash kits are made for trucks and SUV's that have large rounded-edge dash panels. Some kits are a combination of 3D & 2D and molded pieces.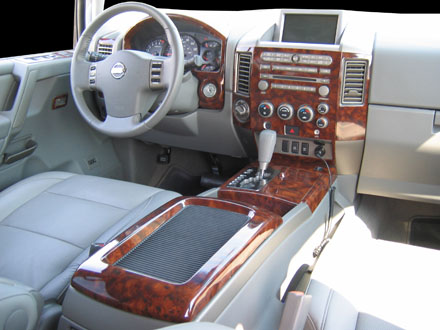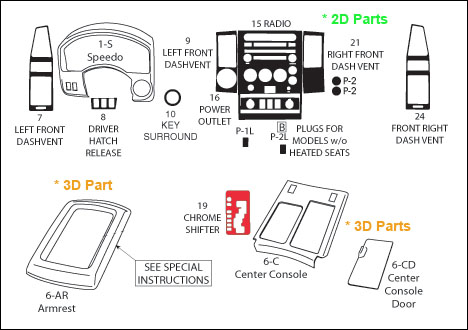 Flat Dash Kits - flat pieces that go on flat or slightly curved dash surfaces. When flat pieces are warmed, they become flexible, and curve to the shape of the dash.
Most common and lower priced for most vehicles.
Wider color selection which includes Real Woods and Carbon Fibers.
Usually contain more pieces in a kit (sample flat dash kit layout).
Easy Installation and Lifetime Warranty.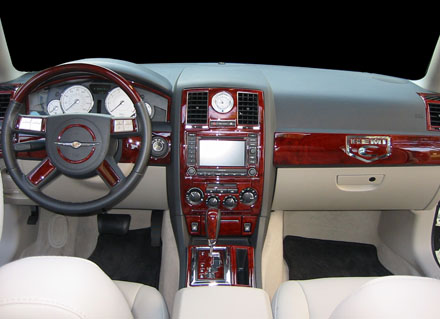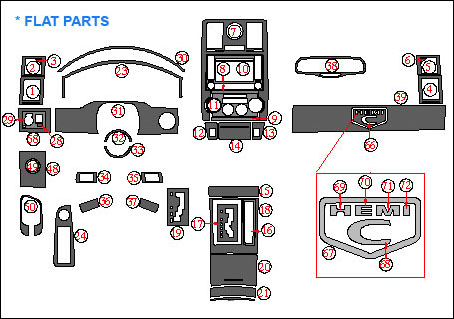 * In some cases we recommend going with molded dash kit while in other cases it might be better to purchase a flat kit. The variants in this case are: 1) number of pieces, 2) price, 3) material type, 4) the look. If you are not sure, feel free to call us at 1-866-NYC-TRIM.
Wood Dash Kits